The coastline of Corfu is formed by golden sandy bays, remote capes and idyllic beaches. Whatever you might prefer, sandy, pebbly, crowded, renowned, with amenities or not, one out of the following will meet your interests. Most of Corfu's beaches offer amenities, such as umbrellas, sunbeds, food and drink, therefore pack your bags and take the tour of the island, exploring in its crystal clear waters.
Starting from the northernmost point and heading towards the westernmost coast you will find:

Canal d'Amour
Sidari
This is a big sandy beach on Corfu that offers various amenities such as umbrellas, sunbeds, restaurants, coffee and tourist-gift shops. Your whole family will enjoy sea sports as well as day cruises off to the Diapontia Islands (Othonoi, Ereikoussa and Mathraki). Nearby you'll enjoy the Canal d'Amour, which is the most idyllic area where rock formations form a series of picturesque coves.
Agios Georgios Pagon
This bay in shape of a petal has a sandy and pebbly beach. Make a point in renting out a boat to reach Porto Timoni and enjoy dives in some sublime remote beaches.

Palaiokastritsa
Palaiokastritsa
Palaiokastritsa is one of the most renowned destinations on the island of Corfu. It is surrounded by a charming green landscape and has six beaches with crystal clear waters that stand out when overlooking the numerous coves. Explore its exquisite seabed by scuba divingand enjoy yourselves doing watersports. The most photographed beach is Agios Spyridonas.

Ermones
Ermones
This is a little sandy beach, nestled between two lush green mountain sides, at the southernmost valley of Ropa, which is ideal for refreshing dives and water sports.
Myrtiotissa
A nudist paradise! This beach is hard to access but surely worth the try for its remote and serene atmosphere, crystal waters and amazing seabed for those who love snorkeling.
Glyfada
This long sandy beach surrounded by lush green hills is "the" cosmopolitan beach of the island. It offers amenities such as sunbeds, umbrellas, food or coffee but is also ideal for experiencing some unforgettable moments at the Aqualand waterpark at a short distance.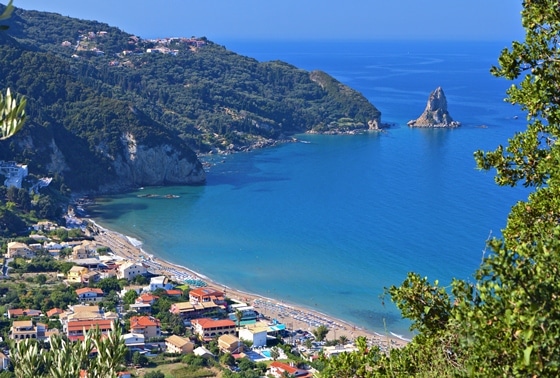 Agios Gordis
Agios Gordis
A busy sandy beach with a large variety of watersports to choose from. The high rock formation at its southernmost side, known as Ortholithi, is its landmark.
Chalikounas
The longest golden-sand beach, stretching amidst the sea and lake Korission, has a cedar tree forest backdrop. It's known as a beloved surfer's hangout.

Issos
Some other remarkable lovely beaches are the sheltered, shallow beach of Agios Stefanos, Kontogialos, which was adored by the hippies in the 60s; Gyaliskari, a sandy and quiet beach; the busy beach Roda; Issos beach with its impressive sand dunes and Paradise beach which is only accessible by the sea.
On the eastern coast the beaches that stand out are:
Acharavi
Sandy beach and shallow waters with amenities such as sunbeds, umbrellas, water sport centres and more.

Kassiopi
Kassiopi
This relatively remote but beloved beach is ideal for those who love diving from the rocks in a pool-like sea.
Kalami
This is a pebbly beach with clear waters surrounded by a lush green scenery. Its captivating beauty is said that was Lawrence Durrell's inspiration in writing the book "Prospero's Cell".
Ypsos
A wonderful sandy beach with lots of amenities. Ideal for seabed explorers as you can find a diving centre here.

Dasia
Dasia
This is a pebbly beach. A platform in the sea is used for diving or as the starting point for water skiers.
Benitses
The Benitses village offers multiple sandy-pebbly beaches. They are renowned for their clear waters. If you want a beach that offers various amenities visit the one after Kaiser's bridge.

Agios Ioannis Peristeron
Furthermore: the beach of Agios Ioannis Peristeron resembles the beaches of Benitses; Moraitika beach has shallow warm waters; Mesoggi is ideal for families; Kavos is one of the most famous villages for young tourists and Kouloura is an attractive little cove with crystalline waters and trees that lend their shade to its visitor.